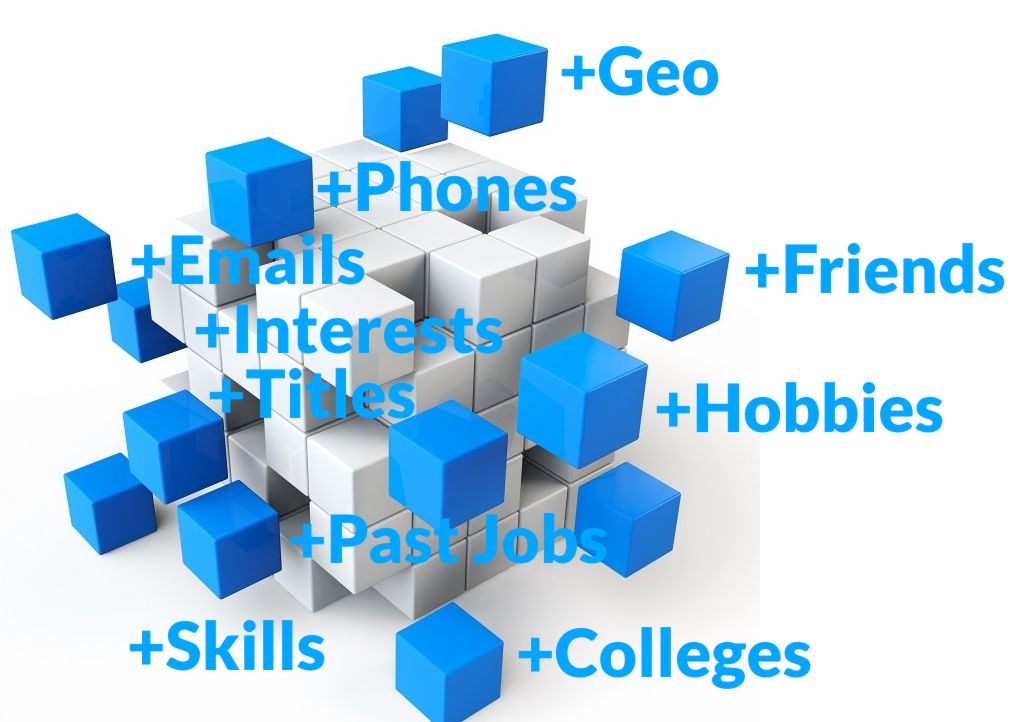 Better Target Your Prospects and Gain Powerful Insight.
Data cleansing and data enhancement are two of the most important parts of data management for business owners. Most B2B marketers are well aware of how important it is to have a good database of leads, but what they may not understand is how they can clean the leads, and keep them clean for the long term. That's where we fit in.

Data cleansing and data enhancement will help you put together a clear and efficient database that delivers on what you want -- it will help you to ensure that you are not wasting time with untargeted leads -- or, worse, people who have opted out. It will also ensure that in a situation where you have merged with another company to combine your marketing efforts, you do not have duplicates in your sales and CRM systems -- duplicates which could potentially cause serious problems for your brand, reputation, and customers.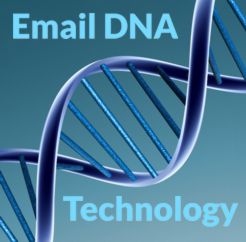 Email Appending [more]
The top 5 business list providers in the world all agree on one thing -- ListK is the Gold Standard of business email appending. We append a higher rate of emails at a higher accuracy than any other business email appender. When comparing our email appending to others, our rates are double what can be achieved by the competition. We use a special Email DNA Technology that allows us to determine emails faster and better than any other firm.
Double the append rate of the next best competitors.
Better accuracy in verifying the emails are active before delivery.
100% Satisfaction on every email we deliver or you don't pay for it.

Forms Enrichment [more]
Your customers want short site forms or they won't respond. You need full records for your CRM and sales team follow-up. We provide the perfect solution! A simple plugin to your site allows fast forms, we then match it and deliver to you the full record you want. Solved!
Best business match rates in the industry.
Consistent, full records to your CRM, database or email.
Many fields not available from any other competitor.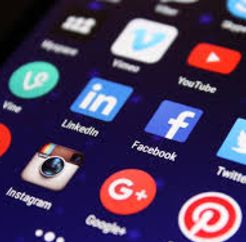 Social Data Enhancement [more]
We can automatically add key data elements from social networks to your contact data. Better target your prospects, start conversations, and gain powerful insight on their interests. We provide a consistent and automatic way to understand your prospects and customers.
Conversation starters: Schools, Interests, Groups, Hobbies, etc.
Targeting Data: Function, Skills, Acquaintances, etc.
Knowledge Data: Latest Title and Role, Past Companies, LinkedIn URL, etc.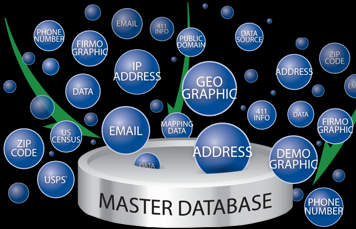 Firmographic Enhancement Plus+ [more]
To get the best ROI out of your marketing database you need to be able to precision target. Plus+ means we triangulate with their social profile (i.e. if the company is headquartered in Austin but the executive's social media profile states they are in the Orlando metro we have the ability to determine the Orlando area office address, phone and details to properly reach them). Common Firmographics we can append:
Contact Info: Postal Address, Phone, Email, etc.
Company Info: Industry, SIC, NAICS, Revenue, Employees, DUNS, etc.
Person Info: Current Title, Function, Years in Position, Past Experience, Skills, etc.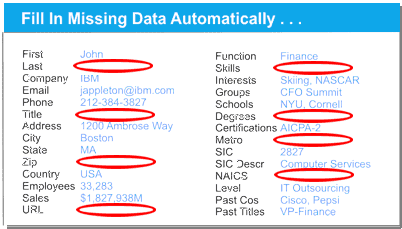 Continuous Hygiene via API [more]
Your marketing database is continuously changing with new contacts added and stale contacts changing jobs. The average position tenure is 3 years which means that 1/3rd of your database must be corrected yearly plus additions. We can make that process simple and automatic.
Nightly or Real-Time firmographic and social enhancement of new records added.
Routine check of existing records to detect and fill missing fields.
Automatic flagging of those who have left and their replacement's full contact info .